Physics Cartoons by John McPherson

PhysLink presents
cartoons by John McPherson - author of the series: Close to Home.
CARTOONS by John McPherson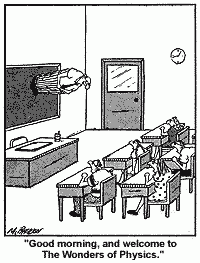 John McPherson's cartoons are fresh, fun, hilarious, intelligent and above all they hit too close to home! He is the insider ... engineer by education, but we are glad he quit engineering and gave it a shot at cartooning. Check out his cartoons on this page and then if you have fallen in love with his work, visit his official Close to Home web page where you can see more cartoons, buy his books, calendars and more ...


ABOUT John McPherson

Born and raised in Painted Post, N.Y., John McPherson first began drawing cartoons at age 5, on the dining room wall. Discouraged by the poor reviews these early cartoons received (and the fact that he was grounded for the next 13 years), McPherson decided to put his cartooning career on hold, and went on to become a design engineer.
He again took up cartooning and discovered that his drawings looked much the same as they did twenty years earlier. Although people laughed a lot at McPherson's engineering drawings, they laughed even harder at his cartoons, and in 1990 he made the totally irresponsible decision to leave his engineering job and leap blindly into the terrifying world of full-time free-lancing.
Since that time, McPherson has published numerous collections of his cartoons as well as page-a-day calendars. He has also illustrated several books and continues to work for magazines.
| | |
| --- | --- |
| | |
CARTOON by John McPherson


Here is another one by John McPherson ... for all of you high school physics teachers and students!


CARTOON by John McPherson


There are a lot of advantages of knowing some physics but this one is definitely not one of them.


CARTOON by John McPherson


Hey ... this might not be such a bad idea!